Main VCF Mid-Atlantic Page   Steering Committee Main Page    Nominee Position Statements
Jason Perkins – Steering Committee Member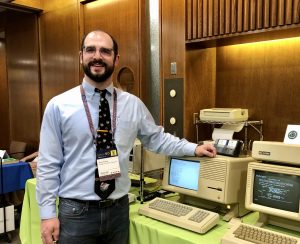 I've been fiddling with computers, and by proxy vintage computers about as
long as I can remember. When you're just getting started cast-off old
machines are your playground!
In 2003 my father and I made the trip from Michigan to DC to visit the
Smithsonian museums. At that time there was a whole section at the National
Museum of American History dedicated to the history of computers. I was
really looking forward to this – and was so disappointed. Static machines,
turned off, behind plexiglas. There was an Alto that either had the worst
case of screen burn, or the CRT replaced with a plastic slide. In either
case it wasn't illuminated. There was an IBM PC and Mac 128k, behind
plexiglas, turned off.
This is one of the main things I like about VCF: We are able to present
systems that work, systems you can touch, systems you can experience.
Having a static display of "Oh, look at this hunk of metal and beige
plastic" just doesn't do it for me.
If elected to the board, I'll continue this tradition of making the full
experience of a system available to our guests.