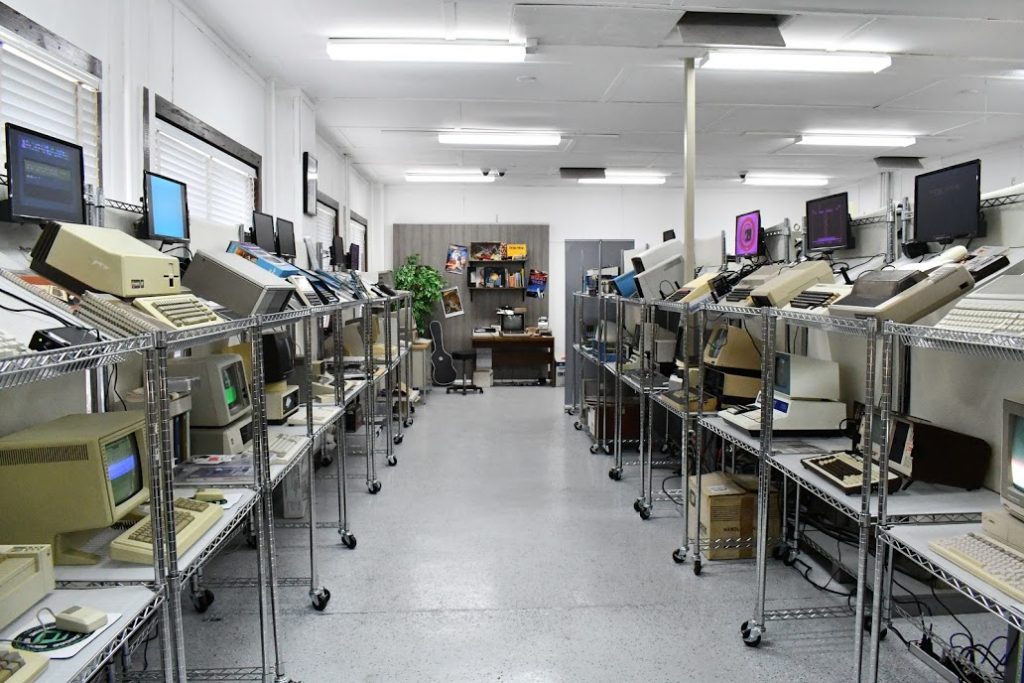 Vintage Computer Federation owns a comprehensive collection of historic computing artifacts. Our collection is curated by the VCF Mid-Atlantic chapter. It is displayed in a building on campus of InfoAge Science Center, 2201 Marconi Rd., Wall, New Jersey, 07719.
We collect, preserve, and restore computer artifacts in order to educate the public about the history of the information age. Currently we have four exhibits: mainframes, minicomputers, microcomputers, and modern times. Many of the systems are restored and operable under docent supervision. Our collection also includes software, documentation, and all types of peripherals.
Our museum is open 12pm-5pm on Saturdays, Sundays and some Wednesdays. We are also open other times by appointment, and sometimes we host other events or bring our displays on the road — see the chapter calendar. Exhibits span the 1940s through today. Contact museum AT vcfed DOT org for details.
We also host repair workshops about 6 times a year.
Our Vintage Computer Festival East information is here: https://vcfed.org/events/vintage-computer-festival-east/
Vintage Computer Federation thanks the InfoAge Science Center for providing exhibition, storage, and event space in support of our mission. InfoAge during the Camp Evans period also has an impressive history of computing developments! Come visit our museum to learn about it!
InfoAge history is quite rich. The campus began as a Marconi wireless telegraphy station in 1914, operated as a Navy/RCA facility during World War I, and was a secret Army Signal Corps electronics research laboratory known as Camp Evans from the start of World War II until the end of the 20th century. InfoAge opened around 2000, entered the National Register of Historic Places, and in 2012 became a National Historic Landmark — the nation's highest designation. The InfoAge facility also hosts other museums covering antique radio & TV museum (New Jersey Antique Radio Club), electronic warfare (Association of Old Crows / Garden State Chapter), military vehicles (Military Technology Museum of New Jersey), shipwrecks (New Jersey Historical Divers Association), spaceflight(InfoAge Space Exploration Center), World War II dioramas, and more. A model trains museum (Garden State Central Model Railroad Club) , there's a hackerspace (Computer Deconstruction Lab), and there is an art studio.