When it was:

Saturday April 21, 2018, 10 a.m. to 7 p.m. and Sunday April 22, 2018, 12 p.m. to 5 p.m.
Where it was:
A new location this year :  5000 Commerce Parkway, Roswell, GA 30076.
It's in the  Roswell Town Center mall, around the back off Commerce Parkway.
Please check the Google Map linked from the address, it's a little tricky to find the first time.
This  Map Link shows the entrance .
What it was:
Speakers — Come hear first-hand accounts of events in computer history and informative technical presentations.  We have again attracted some very interesting speakers this year!
Check the Speakers link above more details.
Exhibits (and exhibit registration) —- Exhibits were presented Saturday and Sunday.   See the link for further details of what was exhibited.
We also had a sneak preview screening and feedback session for an upcoming documentary Love Notes to Newton (click link for a trailer)
Hands On Activities  — We offer a chance to let your inner engineer out.   A very popular feature of our Festival is the chance to create your own electronic device.   We always have kits available for purchase (for everyone from complete beginner to those already handy with a soldering iron).
New for 2018 was our Digital Abacus with Algebraic and RPN Input Modes
We also had a demonstration area put on by the FIRST Robot team  They were able to talk about their experiences at the FIRST competition as well.
Vendors — We invite folks who might have items that would be of interest to our audience to exhibit at our show as well.  (Check the Exhibits link to see which Vendors were at the show)
As always we had Concessions — (including the Festival T-Shirts (and a few from previous years) and Consignment — We offer a consignment area as part of our show.
Our Shirt design this year was :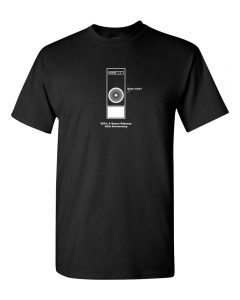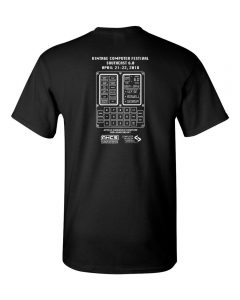 For whom:
Everyone! Computer geeks, families/children, STEM students, students, collectors, IT professionals, curious onlookers…
Admission:
        FREE
Presented by:
Event Contact:
Earl Baugh — earl@baugh.org / (404) 915-8029