The Atlanta Historical Computing Society and the Computer Museum of America  were pleased to announce the second annual Vintage Computer Festival Southeast 2.0!    We survived the first year and came back larger for the second!
The venue was  the same CompUSA store building in Roswell, GA as our first year, but this year the exhibit space was be greatly enlarged, occupying the store's entire retail space. About 2/3 of the space was occupied by a museum display of personal computing artifacts from the Kenbak 1 forward. The remaining 1/3 of the retail space contained hobbyist vintage computing exhibits. For those who missed our first year, or who wanted to see it again, the Apple Pop-Up Museum was available to tour.
The popular retro-gaming area and introduction to soldering activity were also present. This second year, we worked to bring in a number of vendors, assemble a stellar slate of speakers, and offer workshop experiences. Of course, the kids' scavenger hunt was be back this year too.
Hours:
Saturday May 3, 2015 : 10 am to 7 pm
Sunday May 4, 2015 : 10 am to 5 pm
Admission:
$10 per person for one day, or $15 per person for both days.
Children 17 and younger are admitted free of charge.
College Students: show your student ID at the front desk and you will enjoy this exhibit and festival for free.
Advanced tickets were available for purchase online.
Want to see our first Kickstarter? Click here to see the different prize and contribution options.
Raffle
We will have a daily raffle, with one raffle ticket included in your admission price. You will pick up a ticket when you come to the show. Must be present to win.  Prizes will be shown at Concession area.
This was our Shirt design for VCF SE 2.0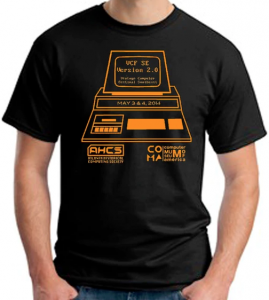 Please contact Brad Arnold if any questions about the VCFSE 2.0.