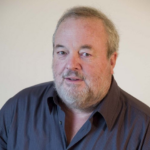 Allan Alcorn, one of the first employees of Atari, an American pioneering engineer and computer scientist best known for creating Pong, one of the first video games.
Alcorn grew up in San Francisco, California, and attended the University of California, Berkeley, graduating with a Bachelor of Science degree in Electrical Engineering and Computer Sciences in 1971.
He worked for the pioneering video company Ampex, where he met Ted Dabney and several other people that would end up being constants through the Atari, Inc., Apple, Cyan Engineering and Pizza Time Theater (now known as Chuck E. Cheese's) companies.
Alcorn was the designer of the video arcade game Pong, creating it under the direction of Nolan Bushnell[1] and Dabney. Pong was a hit in the 1970s.
In addition to direct involvement with all the breakout Atari products, such as the Atari 2600, Alcorn was involved at some of the historic meetings of Steve Wozniak and Steve Jobs (at that time an Atari employee) presenting their Apple I prototype.
Alcorn was the person who hired Steve Jobs when he applied for a job at Atari in 1974. Jobs had seen a help-wanted ad in the San Jose Mercury newspaper for Atari that said "Have fun, make money." He showed up in the lobby of the video game manufacturer wearing sandals and disheveled hair, and told the personnel director that he wouldn't leave until he was given a job.