Urgent – VCF PNW 2020 has been cancelled.

March 5th, 2020
Most of you are aware that the Seattle area is considered to be the epicenter of the COVID-19 (coronavirus) outbreak in the US. Yesterday King County health officials issued new guidelines and requests, one of which was asking for large events to be postponed or cancelled. Living Computers:Museum+Labs (our host) is complying with those guidelines and requests and they closed their doors today until further notice.
I'd like to thank the exhibitors, presenters, and volunteers who were working on this event. I and the rest of the VCFed board are trying to figure out how to move forward and what this means for other events this year. Please stay tuned, but most of all, stay healthy.
Michael Brutman
michael@vcfed.org
Update (March 11th, 2020)
Given the uncertain nature of the health crisis we are not going to try to reschedule VCF PNW this year. The situation does not look like it will get better in the next few weeks and later in the year we conflict with other events. Thanks for your support and understanding and stay safe.
Need a little light entertainment? Check out #retrofair organized by John Kennedy. John is encouraging people to make a 5 minute video about their favorite machine and post it on March 21st and 22nd, the days when VCF PNW would have been held.
T-shirts will still be available! What am I going to do with 200 t-shirts? Start a mail order business of course! Watch this space for details; they will be here soon. (See the design at the bottom of this page.)
---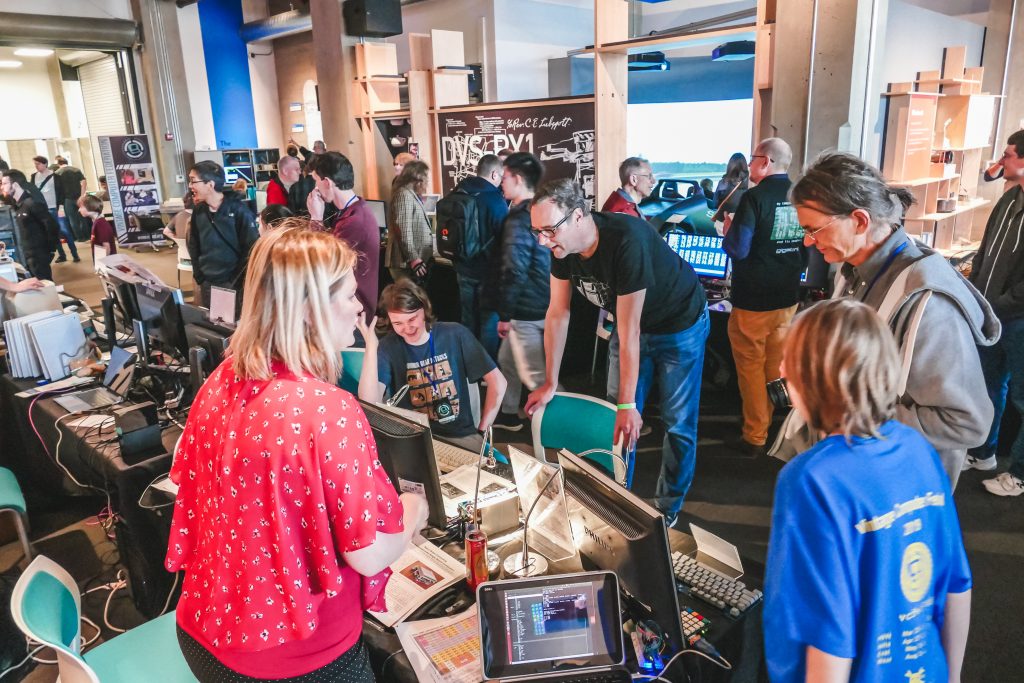 VCFed.org is proud to announce Vintage Computer Festival Pacific Northwest 2020!
When: Saturday, March 21st and Sunday, March 22nd from 10:00am to 5:00pm
Where: Living Computers: Museum+Labs, 2245 First Avenue South, Seattle, WA, 98134 (Map, Directions)
Downloadable event program: VCF_PNW_2020_Event_Program.pdf
Admission is free with paid museum admission!
Join us in Seattle for two days of exhibits, presentations and general vintage computing goodness. Exhibits include classic 8 bit machines, big-iron workstations, home-brew machines, new accessories for old machines, modern interpretations of classic machines, and more! Reconnect with old friends, go treasure hunting in the consignment area, and enjoy both the event and the museum that is hosting us.
VCF PNW launched in 2018.  We had a great time and we did it again (bigger and better!) in 2019. Pictures and the list of previous exhibitors and speakers can be found on the archives page.
Speakers and Schedule:
Saturday, March 21st
10:00 AM
Museum opens and VCF PNW 2020 starts
11:00 AM
Opening comments from VCF and LC:M+L
1:00 PM
Bil Herd, CBM – A Greek Tragedy in 3 Acts, Act II – Jack Tramiel Leaves
2:30 PM
Scott Swazey, 

Restoring the PDP-11/45 That Animated the Star Wars Death Star Plans

4:00 PM
Dr. Stachniak,

Hardware Emulators – From Computing Nostalgia to Historical Research

5:00 PM
Museum closes – come back tomorrow!
Sunday, March 22nd
10:00 AM
Museum opens and VCF PNW 2020 day 2 begins
11:00 AM
Jon Philpott,

ArcASM – The Story of Developing a Programming Game for the NES

1:00 AM
Joe Decuir, IEEE Fellow,

What If? Amiga Cartoon Animation

2:30 PM
Darius Kazemi,

What I Learned From Reading 365 Standards Documents

4:00 PM
Presentation of awards and wrap-up
5:00 PM
Museum closes  and planning starts for VCF PNW 2021
Exhibits:
Exhibits are designed to be highly interactive because we want you to experience them. We are grateful to the following people for their work and we know that you will enjoy some hands-on time with the following exhibits:
Alan Perry, Barn-find Sun 3/260 Restoration
Gregory McGill, TI-99/4a Systems
Josh A Dersch, 1973-1993: 20 Years of Graphical Workstations
Luther Johnson, MakerLisp
Zachary Hardesty, The Wonderful World of Quake
Jason Howe, Alpha Syntauri: The Original Syn
Shane Benting, Early IBM Portables
Vincent Slyngstad, PDP-8 Repair and Restoration
Luca Cappa, Pimpin' Commodore Amiga Computers!
Stefany Allaire, C256 Foenix – A New Retro Computer
Brian Gosney, BBSing: What We Did With Modems Before the Internet
David Cooper, VMS Cluster Including a VAX 750
Bill Buzbee, Magic-1 HomebrewCPU
Eric Ozrelic, Sun Microsystems Workstations and the Start of the Internet Revolution
Sergey Kiselev, Homebrew Machines From Outside of the US
Evie Salomon, BackBit Instant Loading Device For Commodore Computers
Rob Carnegie, Chilliwack Retro-Computing Club And Their Home-brew Retrocomputers
Mark D. Overholser, Socializing and Networked Gaming
Neil Breeden, The Altair 8800 and the Birth of Home Computing
Joan Touzet, The WICAT: World's First 68000-based Computer
Monty McGraw, Tektronix 4054A Computer System With Floppy Drive
J.P. McGlinn, LavaRand, a Random Number Generator Based on a LAVA(r) Lamp
David McNaughton, TheHighNibble, an IMSAI 8080 Replica Kit
Rich Alderson, MIT CADR: A LISP Machine
Consignment: Need to thin your collection a little bit?  Or are you looking to pick up something new and interesting? We will have a consignment room to help! The consignment room is open to everybody – please see the consignment page for more information.
Don't forget: Living Computers: Museum+Labs is an incredible museum! Bring your camera, bring your children, and enjoy all that LC:ML and VCF have to offer.
Other Seattle attractions: Joining us from outside of the area? Seattle for Visitors to VCF PNW has a pretty good list of things to do while you are in Seattle for both techies and non-techies.
Do you need more reasons to attend?
Oh – the new T-shirt Design!
You can buy the t-shirt, polo shirts and other swag at the event! The proceeds help make the event possible.
(Click to see a larger image of the graphics.)
Help us spread the word!
Five different flyers using the same theme …  pick the ones you like! (Click to get the full sized version.)
---
Until then, Happy Retrocomputing!
Michael Brutman
VCF PNW President, CEO, and Executive Floppy Disk Shuffler
michael@vcfed.org
VCFed.org is a 501(c)3 charity. VCF events are part of our mission to preserve computing history through education, outreach, conservation and restoration.